Lavavolo
Projects & Programs
Lavavolo is a village in the dry spiny forest of southwestern Madagascar. This region is one of the few remaining homes of the Critically Endangered radiated and spider tortoises, known to the Malagasy as sokake. The Madagascar Biodiversity Partnership (MBP), Omaha's Henry Doorly Zoo & Aquarium (OHDZA) and Conservation Fusion (CF) have formed a coalition to engage the community of Lavavolo to protect their natural heritage.
The poor economic conditions of southern Madagascar leave many people desperate to provide for their families. Poaching of these rare tortoise species for bush meat and the illegal pet trade is rapidly driving them towards extinction. Illegal sokake hunting camps operate year-round businesses in Madagascar and Asia. These camps harvest hundreds of radiated tortoise individuals to sell in food and pet markets, confiscations from the camps are reported every year. Additionally, the spiny forests in this region continue to be sacrificed for agriculture and the production of charcoal for cooking fuel. With the current rate of harvesting and habitat loss, wildlife experts predict that the tortoises will become extinct in the wild in the next 20 years.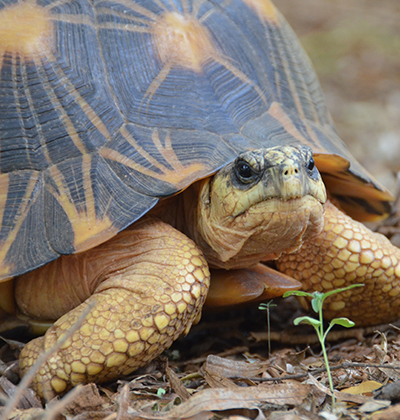 Radiated Tortoise Project

Madagascar's radiated tortoises have suffered a dramatic population decline due to human consumption and habitat destruction. The radiated tortoise is now classified as Critically Endangered, with a population that went from an estimated four million to less than 300,000 remaining. In response to this devastating decline, the MBP initiated the Radiated Tortoise Project (RTP) to conserve this flagship species through a combination of community outreach and conservation education.
This project involves an intensive monitoring program that concentrates on the population around Lavavolo, in southwest Madagascar. The RTP has been made possible with financial support from the Radiated Tortoise Species Survival Plan (SSP). The Lavavolo region was chosen as the initial site for the RTP's long-term conservation effort based on two criteria. First, by using extensive field work and molecular genetic data, the MBP concluded that Lavavolo's radiated tortoise population called for priority conservation action. Second, although the people of this community traditionally maintain the local fady (taboo) against eating or harming the sokake, this has not been respected by outsiders that have immigrated into southern Madagascar to set up tortoise harvesting operations.
In 2008, MBP began the intensive monitoring program of the radiated tortoise nest sites. During the first phase of this study, Malagasy graduate students were taught to locate the tortoises, collect genetic samples and morphological data, while local field assistants were trained to monitor nest sites throughout the incubation period. The second phase of the project is ongoing and consists of daily observation of the nests and subsequent sampling of new tortoises. This work is coupled with intense community education and outreach efforts that integrate alternative agricultural practices, resource conservation and entrepreneurial opportunities that will contribute to community efforts, reducing pressures upon Lavavolo's forest.
 Ring-tailed Lemur Project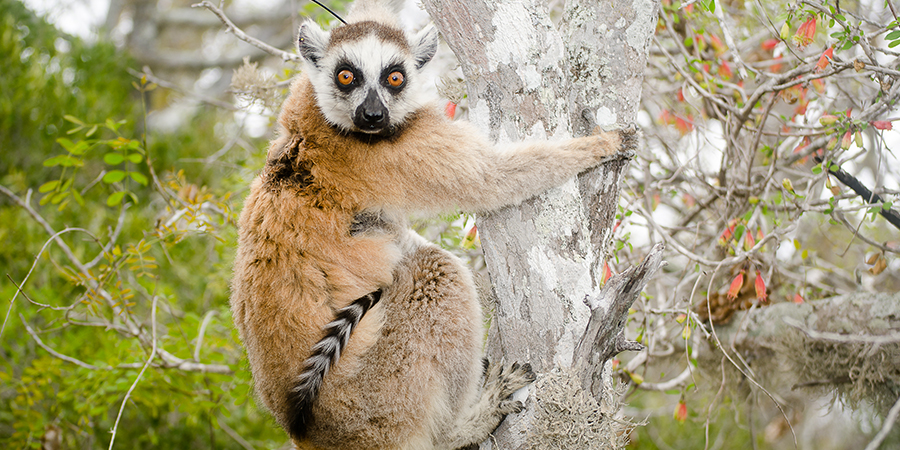 Like the black and white ruffed lemurs, the ring-tailed lemur (Lemur catta) is a prominent seed dispersing species, eating fruit whole and passing the seeds intact. Thus, the ring-tailed lemur is a perfect candidate for an EPRP based out of Lavavolo that dovetails with the monitoring program to collect fecal materials to supply seeds to the reforestation initiative in the region. To facilitate this, multiple ring-tailed lemur individuals from different populations were radio-collared, enabling local field assistants and students to study and monitor the lemurs and collect fecal samples.
As with the Kianjavato EPRP, the Lavavolo EPRP will result in the production of seedlings that will be transplanted as part of a community-supported reforestation program that will utilize native trees to restore habitat and enable movement of lemur and tortoise populations. To ensure survival of the young trees, the Lavavolo EPRP uses Groasis Waterboxxes that are designed to promote establishment of seedlings in arid environments. Once mature, the endemic trees will entice wildlife to forage and continue the process of forest regeneration themselves, thus requiring less future human intervention. Additionally, employing local community members to maintain and prepare seedlings in the local nurseries and plant trees increases community awareness and support.
Aquaponics Pilot Program
Recent research indicates that small-scale fisheries in Madagascar have a significant positive impact on local economies due to their contribution to food security and poverty reduction, both critical factors in development of sustainable societies. Aquaponics is a sustainable food production method that combines aquaculture techniques of raising fish for food with hydroponic methods of growing plants in a liquid medium. When the system is properly balanced, both the vegetation and fish can be regularly harvested, providing much needed food security to the community.
The MBP has initiated multiple aquaponics pilot projects, one of which is in Lavavolo. We have partnered with Whispering Roots, an Omaha-based nonprofit that specializes in aquaponics, to design a system using locally available materials that are robust enough to withstand the climate, and incorporate local vegetation and fish preferences to ensure acceptance by the community.